At Royal Caribbean International we are an Equal Opportunity Employer, and we are committed to providing you with a healthy, safe, and respectable work environment, free of discrimination or harassment.
We expect all crew members to act with the highest ethical standards and principles, and to comply with key policies that also convey the importance of mutual respect and tolerance of the differences among us.
Always list employers in descending order (starting with your current employer)
Clearly state the name of each employer, and the nature of the business
If applicable, indicate the rating of the hotel or restaurant (stars, diamonds, rosettes)
Indicate the size of the organization
When indicating period of employment, always use this format: mm/yy – mm/yy
Note at least three achievements you accomplished within each role
Include the reason(s) for separation from each employer
If there are any breaks in periods of employment, explain why
Include relevant figures – like gross sales, cost avoided, size of team
We'll look forward to learning more about you!

JR. PHOTOGRAPHERS
 Reports to: Photo Manager
Position stripes: 1
    Department: Photo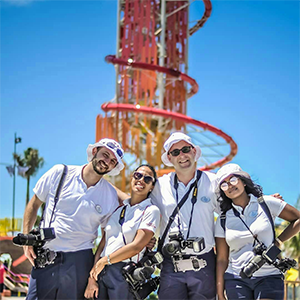 Position Summary:
The Photographer is responsible for photographing daily events, including, but not limited to embarkation,
gangways, dining rooms, portraits and any other event that may require a photographer to be present to
document the event(s). Photographers will also work on gangways or in other areas "in character" as a
photo mascot. Photo Gallery duties include delivering excellent customer service while handling sales of
photo and retail items, and ensuring products are well displayed and merchandised to company
• Excellent ability to speak English clearly, distinctly and cordially
• Excellent ability to read and write English in order to understand and interpret written procedures and
write operational procedures, policies and manuals. This includes the ability to give and receive
instructions in written and verbal forms and to effectively and cordially present information and
▪ High school diploma or foreign equivalent is required.
▪ Bachelor's Degree or foreign equivalent from a recognized educational institution is preferred.
Relevant experience may substitute for this educational preference at an equivalent rate.
▪ Minimum of six months experience as a photographer required.
▪ Intermediate to Advanced level English verbal and writing skills, including the proper use of English
▪ Basic knowledge and experience to operate basic computer systems and touch-screen kiosks is
required
▪ Ability to conduct training sessions at all levels including one on ones and large groups

▪ Ability to effectively deal with internal and external guests, some of whom will require high levels of
discretion, patience, tact and diplomacy
▪ Knowledge of principles and processes for providing exemplary customer and personal service
including needs assessment, problem resolution and achievement of quality service standards
▪ Completion of high school, basic or vocational education equivalency preferred.
▪ Applicant must have computer literacy, knowledge of and experience using Microsoft Excel, Microsoft
Word, Microsoft PowerPoint and Adobe Photoshop a plus.
▪ Must be able to work independently and function under pressure in a deadline oriented, fast paced
environment for extended periods.