The diversity and opportunities to work aboard superyachts around the world are endless. The yachts range in size from 60ft to 600ft with crew of 1 – 100 crew members in four primary departments. Each department is responsible for a unique set of tasks aboard and is suited for individuals with specific skill sets and experience. Explore professions within each department.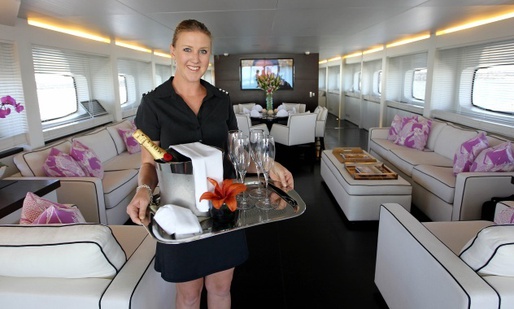 A typical day's tasks will include:
Food service, including providing silver service
Drink service and bar tending
Overseeing the cleaning and polishing of accommodation
Cabin preparation
Flower arranging
Obtaining local currency
Arranging trips, transport and other similar events for guests or the owner
General yacht operations
Once established in a Chief Steward/ess role, he/she may elect to move into a Purser role. This is a highly administrative position that is found only on very large yachts. It requires a strong background in everything from service to administration and crew management.
Required Skills and Experience
The Chief Steward/ess will normally have experience in more junior roles, but for top-end superyachts they may have experience as a butler. There are no specific qualifications, but a background in food and drink, hospitality and catering or customer service is an advantag
They are in charge of the interior of the yacht and have a similar role to a steward/ess, but on a more senior level. The Chief Steward/ess manages and recruits the interior staff and reports directly to the Captain. 
The most important aspect of the Chief Steward/ess role is his/her attention to detail. This type of position requires the ability to think ahead, provide a service before the guest makes the request and to anticipate events before they happen. Most importantly, you must exhibit the ability to discreetly serve guests in a luxury 7-star manner.
As with any job on a superyacht this is not a 9-5  role, particularly when the owner or guests are on board. Work can be needed at any time, day or night. Days are often long and hard, but your time off will often be in parts of the world most people aspire to. Be open minded, flexible and ready to accept new and varied challenges each day.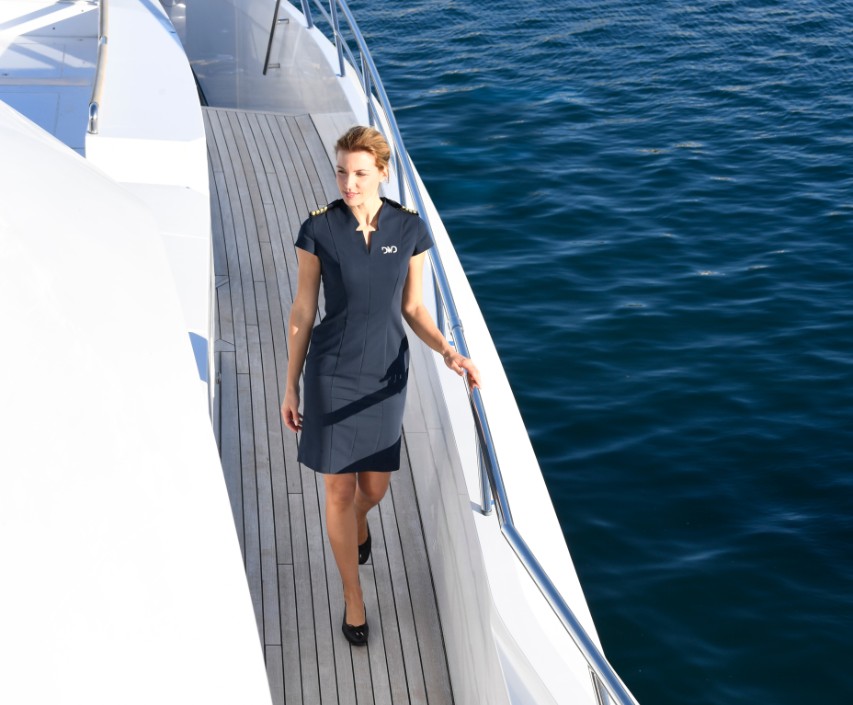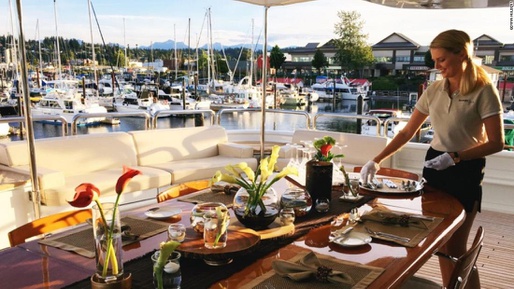 A yacht stewardess (yacht stew) is an entry-level position to working onboard a superyacht. A Yacht stewardess is responsible for the maintenance of the interior of the superyacht and providing the highest standard оf hоѕрitаlitу аnd ѕеrviсе in line with the owners and guests expectations.
Depending on the size of the yacht, there are between 1 and 5+ yacht stewardess. The duties and responsibilities as a yacht stewardess will vary with the size of the yacht and number of crew on the yacht. Your first job as a stewardess on a larger size yacht will consist of learning the basic duties of a stewardess. Crew Mess duties, detailing, cleaning windows, polishing is high on the agenda to keep the yacht in immaculate condition at all times.
Onboard a smaller yacht with a lower number of stewardess, responsibilities will increase to more hands-on duties such as; tender driving, anchoring, mooring procedures, assist within the galley or deck operations.
Providing 5-star service to guests and ensuring guest satisfaction
Providing excellent guest service, silver service and bartending skills when needed
Maintaining laundry, housekeeping and wardrobe tasks for both guests and yacht crew
Floral arrangements and decorations
Excellent knowledge of fine dining, wines and cocktails
Maintenance of guest-cabin care and detailed cleaning
Assisting with inventory and restocking provisions
Watchkeeping within the crew mess
Stowage for sea
Attention to detail
To maintain a safe and secure environment